Shirin has been with BDO for almost fifteen years. During that time, she's worked in a variety of roles and departments, as she's explored where a career in tax could take her. Now, she's taking on the biggest challenge of her career so far. This is her story.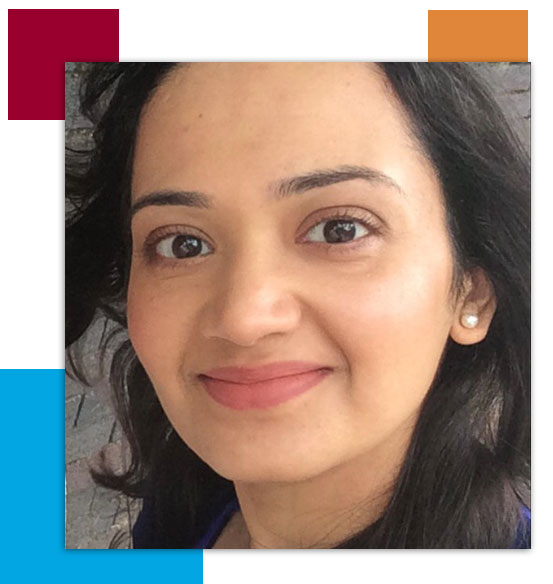 How did you decide on a career in tax?
Maths was always one of my strongest subjects but because my parents never went to university, I wasn't really aware of the different routes I could take. I chose to do an accountancy degree at Aston University and while the tax part of my course was what I enjoyed the most, there were less job opportunities in tax so I joined an audit graduate scheme for the first 3 years of my career. While working in audit, I had the opportunity to do a secondment into tax and I used this to my advantage, requesting a permanent move to tax after my graduate contract had ended and I have been in tax ever since.
And how has your role changed since joining BDO?
I joined BDO through a merger with my previous company PKF. After a few years in personal tax, I moved across into Private Client Services (PCS), mainly working on personal tax compliance for various types of clients including high net worth individuals, Directors and Partners. I've now worked there for 12 years, with many different entities over the years, some of whom have been with me for most of that time and I have seen them go through various changes in their lives: selling businesses, Inheritance Tax planning and passing wealth to the next generation.
About five years ago, I became the Shared Service Centre (SSC) Champion for our PCS team in the Midlands. Soon after, I was involved in drafting a document for the SSC to help them to understand the tax return compliance process in more depth and which went on to become one of their training manual as part of their training process. Following this, I was also involved with the development of the SSC portal and providing feedback on this as an end-user. Due to my extensive involvement with the SSC as a Champion, at the start of this year, I was headhunted and offered a job by our Baker Street office within the Tax Stream Operations team, which is where I am now.
What does your current role involve?
What I do now is completely different to my previous role. I used to be client facing providing tax compliance and advisory services. Now, however, I provide support to the PCS Service Delivery Lead and the PCS compliance champions in respect of process standardisation and improvement in respect of the compliance cycle, work with the local business streams and the SSC to ensure they understand and implement new processes. I make sure our PCS compliance process from start to finish is as streamlined as possible.
Why would you encourage others to choose tax?
There are many different types of tax. Here at BDO, we have "tax streams" within the tax team; Personal tax, VAT and Customs Duties, Capital Allowances, Expat taxes, Employment taxes, Trusts and Estates and many more. One of the great things about working for a big firm like BDO is that you can get the opportunity to experience different areas of tax before deciding which area of tax you would like to specialise in.
What do you like about working at BDO?
I've been with BDO for almost 15 years and still feel that it is an amazing place to work. I have tried two or three different areas of tax and met so many interesting people along the way. I have always felt supported at every level, and not just in my career, but in my personal life too.
Learning and developing is really encouraged as they want to inspire you to be a "tax advisor of the future" and help you to grow and achieve your career aspirations, maybe become future partners and directors. If you feel like you want to try a different area of tax or if you hear about a partner/director/manager going to a meeting which you think sounds interesting, you can ask to go along and you'll be given the opportunity to learn.
And what is it about the culture you enjoy?
There is such a diverse culture here at BDO. I have always felt safe being myself and can confidently speak my mind without fear of judgement for who I am or where I come from.I was born in India and I came to the UK when I was six. So of course there are different cultural aspects to who I am but I feel like I can always just be myself.
I am proud to be part of the Muslim Network here at BDO. This is a great network to meet people within BDO who I would not have otherwise met as we work across different streams and offices. The Muslim Network is always organising events to allow people to network and develop their skills. We raise a lot of money for charity by running events, such as 'fast for a day' during Ramadan which staff across BDO from all different backgrounds take part in or the 'coffee roulette' where you're randomly matched with someone each month who you can have an actual or 'virtual' coffee with and get to know them. More recently, the Muslim Network has launched a mentoring scheme to help junior members of the firm in their career development which I am looking forward to being a part of.
What's next for you in your career?
At the moment I've just started this role within the Tax Stream Operations Team and it's pushing me out of my comfort zone. I'm talking to people from all over the country and across different business streams. I'm liaising with managers, senior managers and directors, and I'm presenting to them about SSC developments and the personal tax return compliance process. So that's pushing me out of my comfort zone and helping me to grow. I'm looking forward to the new challenges that this role brings and hopefully it will help me to progress in my career.