Interview Hints and Tips
Want to be as prepared as possible for your interview and beyond? Here you'll find some hints and tips from our Recruiters themselves about what it takes to be successful at BDO.
ONLINE APPLICATION
Preparing for your online application
Our application is quick and easy.
You'll need to detail your academic background, work experience and extra-curricular activities. Please check our eligibility criteria in FAQs before starting your application.
Tips for applying online
Answer each question fully and correctly.
Share any information you think would be helpful for us to know, but don't exaggerate; keep everything factual.
Save your application regularly – you don't have to complete it all at once.
Like with everything you write, check grammar and spelling, and get someone else to proof-read your application before you submit.
You might want to print a copy of your application – in case you want to refer to it again.
Once you've submitted your application, we'll send you an email to let you know we've received it. You can then track your application by logging back into the system at any time.
Give yourself the best chance to succeed in the online assessment
Sit in a quiet room where you won't be disturbed. Have everything you might need to hand – pen, paper, calculator etc. Practise! Using the practice tests will help you prepare. Click here to find out more.
How we assess you
We'll look at your core competencies, technical competencies, values and attitude. In essence, what you do and how you do it. We know that certain attributes and behaviours are critical to success at BDO, and during the recruitment process we will assess you against them:
Business thinking
Understanding the business strategy and goals and being aware of the pressures, threats and opportunities for the firm. Using this insight to drive and achieve results.
Communicating
Understanding, creating and sharing information with others in a clear and concise way that suits the audience and achieves the desired result.
Decision making
Using reasoned approaches and agreed processes to choose a course of action to reach a suitable conclusion, achieve a desired result and minimise risk whilst doing so.
Developing yourself and others
Showing commitment to your own development, and supporting and encouraging others to develop their knowledge, skills and behaviour to enable everyone to reach their full potential and perform for the wider benefit of the firm.
Collaborating
Willingly work with others in a way that is mutually beneficial, delivers exceptional service and achieves business goals. Creating and sustaining a culture of forming alliances and pooling resources for the benefit of the firm and its clients.
Innovating and change
Thinking creatively, generating new ideas and approaches, seeking opportunities that will benefit the firm and its clients; adapting to changing needs, and accepting new and different ways of working.
AT THE VIDEO INTERVIEW
Set the scene
Dress as you would for a normal interview. Keep any notes far away so that you are not tempted to read them when answering questions. Keep an eye on the time so that you don't run over.
Think your answers through
We need to understand what you're good at. That's why we use a competency-based interview as part of our selection process. This means we'll ask you to tell us about what you've done before; specific experiences that will show us a Situation, Task, Action and Result. It's called the STAR approach.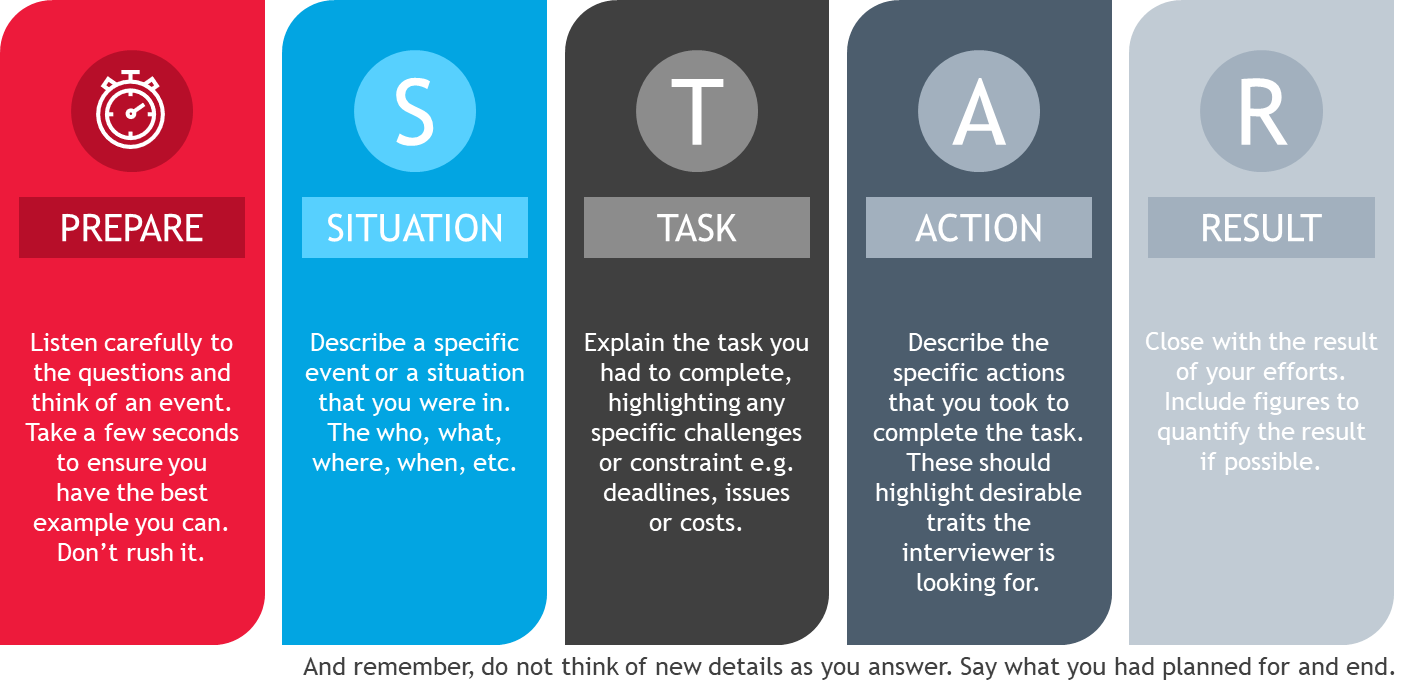 Give examples of your skills
We need to know who you are and what you're capable of. Figure out which skills and behaviours may be important to do well in the role you're applying for. It may help to think in terms of overcoming a problem or responding to a particular set of circumstances.
Good real-world examples of these include: managing projects; interacting with people; influencing a difficult audience; analysing data. Whichever scenario you choose, focus on the part you played and what skills or attributes you used.
Think ahead to your future
You will think outside the box and have a vision beyond the role you're applying for. Let us know about the ways in which you'd like to grow within BDO. Do your research and find out what kind of career path you can expect to take, or what training we have on offer to grow your specialist skills. The more you put in, the more you'll get out of a career with us.
Tips for our video interview:
Be yourself. We want to get to know the real you. Relax and answer the questions as honestly and openly as you can.
Speak clearly and concisely, sharing as much information as you wish.
Listen to the question carefully (there are also subtitles if you prefer). The candidates that perform the best are careful about responding to the question asked – rather than giving answers they may have pre-prepared. As with all interviews, you won't be allowed to go back and change your responses.
If you are successful, the next stage of the recruitment process is our Assessment Centre.
AT THE ASSESSMENT CENTRE
Do your research
Take some time to find out more about us. This will help you to think about any questions you'd like us to answer. There's a wealth of information out there about BDO. This will tell you what other people think of us. Together, all of this information will build your own personal picture of what we're like and whether we're the right employer for you.
Dressing for a face-to-face interview
We may offer Agile and home working, but a professional appearance is always important.
Work together as a group
How you collaborate with others says a lot about how you'll blend into our unified culture.
Ensure presentations cover all the set objectives
Make sure spelling and grammar is correct.
Stand out from the crowd.
Be different, be unique, be authentic, but most of all, be yourself.
Ask us questions
This is an opportunity for you to learn about the role and understand which areas you would like to explore further. Prepare questions ahead of your assessment but also ensure you ask questions based on the discussion with your adviser, so you really understand the role and BDO.
FACE-TO-FACE INTERVIEW
For our graduate and school leaver roles, your final stage will be a face-to-face interview in the hub you have applied to.
Dressing for face-to-face
A professional appearance is always important.
Stand out from the crowd
Like the assessment centre, we encourage you to be different, be unique, be authentic but most of all, be yourself.
Have questions
Your interview is a two-way process – it's not just for us to assess you but for you to see if BDO is the right fit. Ask any questions – this is your opportunity to make sure you have everything you need to know.
Do your research
Do some research about BDO and specifically the stream and team you are interviewing for. The Partner will expect you to know a bit about the company, and why you want to work for us.
Arrive on time
Plan your journey and arrive on time, in the right place and know who you are going to meet.