Sakib Isa is an Audit Director based in our Manchester office. He has been with BDO for 10 years, enjoys eating out and spending time with family and is an avid supporter of Manchester United football club. Read on to find out more about his career journey with BDO.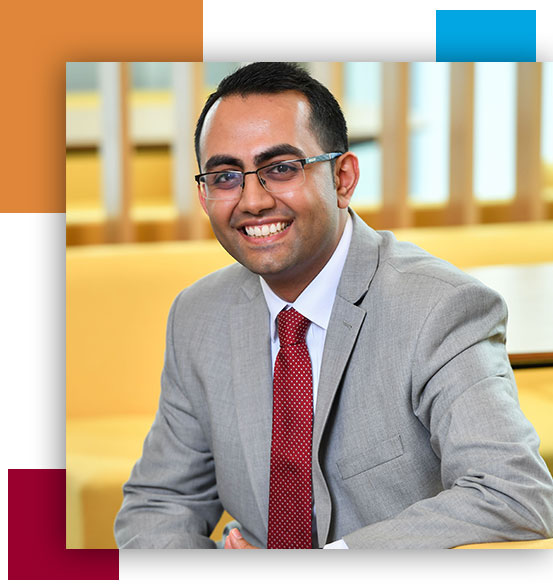 Tell us about your career journey at BDO so far
I joined as a fresh faced graduate trainee in the class of 2011. Having navigated through the ACA training programme alongside my intake, I qualified in 2014 and moved up to Assistant Manager in November 2015, Audit Manager in November 2016 and then Senior Manager in May 2018.
From September 2018, I took on the role of Department Senior Manager for the North West Audit team and helped support a fantastic period of growth and success alongside our Responsible Individual and manager group. I've had some great highlights including travel across Europe and the US, counting supercars on a stocktake and being part of a team winning our first £1m+ audit in the North West.

In January 2021, I moved up to Audit Director which is my current role. It's been a fantastic journey so far, no day has been the same and I've thoroughly enjoyed the variety and challenge along the way.
Why did you apply to join BDO?
What really came across during the graduate recruitment process for me was that BDO is truly people focused business. I really took away the friendly atmosphere in the team, the inclusive culture and how everyone operated with a smile on their face.

The other key differentiator for me is that our Audit entities come in all shapes and sizes. Over the years, I've worked with multinational FTSE organisations one week and then a smaller entrepreneurial business the other. For me, that's led to better experience and more exposure earlier on in my career which has supported my development.
How would you describe BDO's culture?
It's at the heart of making BDO a fantastic place to work. We are all encouraged to be ourselves, to inspire others, to be collaborative, to be inclusive and support the wider team. It's an environment where you feel respected and valued.

Why should someone join BDO North West?
Both Manchester and Liverpool are fantastic cities and we have excellent offices across both locations. For me, Manchester has a bit of everything. I have spent a lot of time in the city having gone to University there and now
having worked here for 10 years I can honestly say (regardless of what you are into) it has everything - art and culture, dining out, music or football – there is something for everyone!

What has been the best course you have completed whilst at BDO?
The one that sticks out is a business development course on winning work in the FTSE market. I had the privilege of going on the course with some of our most talented partners across the firm and had the opportunity to watch them present and understand their mindset when it comes to business development opportunities. A great learning experience and it has really helped develop my own confidence in this space.
Describe BDO in one sentence
A collaborative and inclusive environment where you can work with some of the best businesses, alongside some of the best people in the North West.
What has been your biggest surprise at BDO?
A positive surprise has been the growth in the size of the team over the years since I've been at BDO. I started in a North West audit team of 40. We are now approaching 170 (and counting!)