We asked Kudzanai Mumbure, an Associate Director at BDO, about her career journey and what makes BDO an exciting place to work.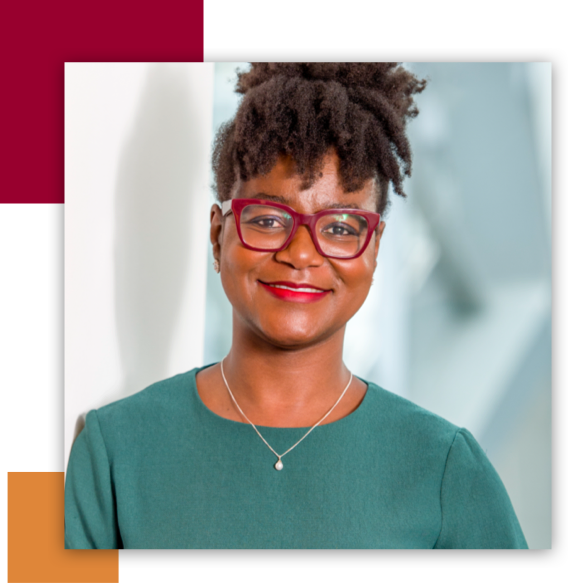 What made you decide to join BDO?
I joined BDO in 2017 because I wanted to enhance, grow and learn more by working with Insurance clients in the Financial Services industry. I was impressed by the level of presence BDO (then Moore Stephens) had in the market, the calibre of people working at BDO and I knew that I would learn a lot from them. I was also coming from the Big Four at the time. I wanted to avoid being a number, but to be in a place where I can take up responsibility earlier and challenge my capabilities. BDO has the ideal size for this, which is important to me because it allows for more ownership, decision-making and involvement in numerous initiatives which span across continents.
How do you feel that you've been supported to progress at BDO?
I feel my career aspirations and progression is being taken seriously and I can see a map of where things are heading towards.
I've been getting involved in a lot of initiatives within the firm which are outside of client delivery, which align with my personal values and what I enjoy doing.
What kind of initiatives are you involved in?
I've been involved with the Inspire network, which is working to promote gender balance within the firm. I helped to organise community events and invited speakers to talk about how to build resilience and confidence in female staff.
This is important because it helps foster a more equal environment within the company. I also encourage the senior leadership team to see how our female employees feel and what they hope to achieve within the firm.
I have also been involved in the mentoring scheme for black talent within the big six firms. So this is not just BDO specific. I was paired with an assistant manager who works for another firm that I am currently mentoring. It's been very fulfilling to understand the aspirations of someone who looks like you, though they are in another firm. They experience similar challenges and I get to learn a lot from them as well.
Do you feel that BDO supports you in those challenges?
Yes, I do. I have embarked on leadership courses sponsored by the firm which have been very helpful. I think it is still a learning experience for all parties. But I feel BDO has taken diversity seriously and put plans in place to make sure that the members of staff who are in the minority groups are getting the recognition and the support that they need.
How do you feel the culture of BDO differs from other places?
I think the biggest one is encouraging people to be themselves. That has definitely struck a chord with a lot of people and I have experienced the benefits of this to date.
It makes it a fun place to work and you feel you are not just there to do the job, but also to recognise you are working with humans, people who have unique personalities and they care. It helps in how we all perform.
What makes Financial Services Advisory special at BDO?
I've been impressed by how we incorporate everyone at all levels. For example, in some pitch presentations, we invite people from all levels to go and present to the potential client boards. That is something you do not see in other firms.
It is very powerful and very encouraging and it motivates you to feel like you belong.
The fact that you are coming into a diverse team means you can tap into different experiences and from people who have different ways of looking at work and approaching things.
What are the three key things that would attract someone to work at BDO?
Number one - BDO is a place where you can be your true self. It makes work enjoyable. It makes you feel purposeful.
The second thing is the growth prospects. If you go into a firm like BDO that is aspiring to grow as a firm itself, it means there will be more opportunities that will be built for you.
And thirdly, here you are always learning. You're allowed to fail because you will learn from that too. All of this and the breadth of clients that we are working with at BDO makes it an exciting place to be.