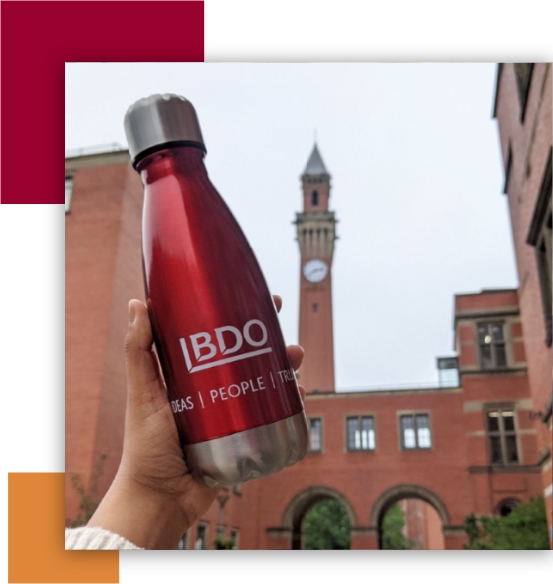 During National Apprenticeship Week we have the opportunity to focus on the large number of trainees we welcome to the firm each year. It also gives us the chance to focus on our wider recruitment process and how Environmental Social Governance (ESG) plays a part.
Last year, we surveyed a group of Gen Z students to ask about the drivers influencing their future career decisions. In total, 97% said that caring for the environment was a priority for them and 95% said that it was important that their professional career aligned with their interest in the environment and social responsibility.
These findings are backed up by similar surveys from the likes of student research company Cibyl, employer brand consultancy SMRS and the Institute of Student Employers.
It's therefore very important for us as a firm to show our environmental credentials to prospective job applicants from the very first interaction, and to demonstrate to new starters how we are striving to improve our performance across each of the ESG agendas.
Early Careers Marketing Specialist, Courtney Ireland, explains:
"We had already made progress on reducing our environmental impact, but the pandemic has accelerated our move away from paper-based recruitment flyers in favour of digital versions aimed at our graduate and school student audiences. These contain hyperlinks to relevant programme pages on our website and to the social channels used most frequently by our target candidates."
At careers fairs, the recruitment teams use iPads to collect student registrations digitally and to show prospective candidates how they can connect with and ask questions to current BDO colleagues about their roles and career journeys through the Talk to Us platform.
"In our discussions with prospective candidates, we'll also try to draw their attention to BDO's culture and its commitment to Citizenship, Wellbeing and Being Yourself." adds Courtney. "These are key differentiators which help us to stand out in the market."
However, the teams can't solely rely on digital methods to attract prospective candidates.
"At recruitment fairs, BDO-branded merchandise is still a useful tool to help attract candidates to our stand and to start initial conversations, while also demonstrating our commitment to sustainability through the choice of items we give away," explains Courtney. "Increasingly we are looking to use items that are made of recycled or sustainable materials. It's also a great way of communicating our employer brand and demonstrating our ESG credentials."
BDO's preferred supplier for merchandise is Fluid Branding. They are leaders in the market for sustainable merchandise. They have some impressive credentials and are the only BCORP certified merchandise company in Europe.
In addition to supporting the recruitment team, Fluid also supplies the newly launched BDO online merchandise store which has a focus on eco-awareness and a sustainable range of merchandise for bespoke events.
The Early Careers team also prepares Welcome Packs for our new starters and university brand ambassadors, as well as summer programme participants. This year the merchandise selected includes:
Notebooks that are made of paper from responsible sources and have the FSC certified stamp, which means the forests are strictly managed.
Cotton tote bags that are regarded as an eco-friendly product and considered better than plastic.
Desktop gardens made of recycled aluminium, containing wildflower seeds
Stainless steel re-useable drink bottles.
The team plans to keep their approach under review and to make sure that environmental considerations are taken into account for all planned activity.
Meanwhile, the firm is pressing ahead with other digital innovations which are aimed at reducing our environmental impact. Later this year, the Marketing team will be launching a virtual business card app which should help reduce the thousands of business cards we currently print each year.